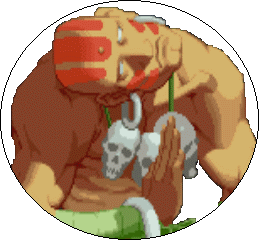 DHALSIM
DHALSIM is a Yoga Master who had devoted his entire being to the perfection of his facilities. His intentions are pure, and by fasting and meditating, he became in tune with every living thing. He has the ability to sense the spirituality around him and is longing to cleanse the world of its evil.
SEEING the poverty of his village, Dhalsim have no choice but to support his fellow Indians by means of fighting. He entered his first Street Fighter Tournament hoping he could provide economic support for his suffering people. Although he did not won the title, Dhalsim did not returned home empty-handed. He brought with him Sally, a woman he met in the tournament and now became his wife.
NOW on his second tournament, Dhalsim feels that he will succeed this time. His wife anticipating a child, Dhalsim believes that by winning the title, he could give peace and comfort not only to his family, but to his people as well.
---